Be ready for when the future arrives.
Farm succession planning and estate planning is a process that allows everyone to have complete clarity about the ownership and operation of the family farm. It helps to resolve possible future issues and remove any uncertainty. Planning for the transfer of a farm before your hand is forced will help to avoid any animosity between family members.
Farms are a complex combination of valuable assets including land, equipment, commercial relationships and highly specialised knowledge, accumulated carefully and strategically over many years and across generations. Additionally, farming businesses are often structured through partnerships, trusts, and superannuation funds to suit the needs of the families or companies that run them.
A good understanding of farm business structure is important to be able to plan the estate and succession.
There is no one-size-fits-all plan, so getting expert advice is important. Robertson Hyetts has farm succession planning and estate planning lawyers to help see your farm passed smoothly to the next generation, at a time of your choosing. We also provide advice about how to transfer the farm to children without attracting stamp duty.
Farms are unique businesses and careful planning for business succession and estate management can reduce the risk of losing it all to tax or litigation when it is time to sell, retire or hand over to the next generation. It can also help manage family expectations and ensure that you are looked after in retirement.
Free farm succession hand book
Succession planning is often a complex issue for farming families. 
This free guide from Robertson Hyetts provides information for farming families who are just starting the conversation on the topic of succession planning, or already in the process of implementing changes. 
Just fill in your details below to be sent your obligation free book.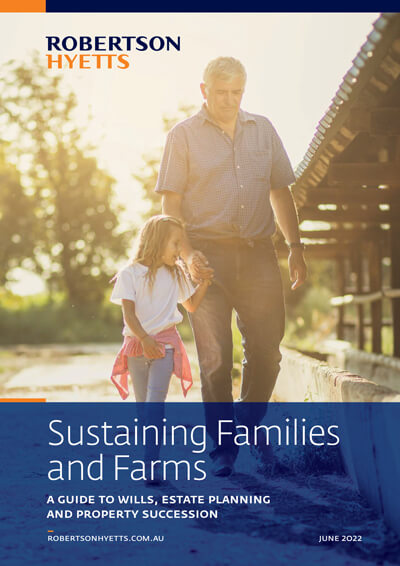 Farm Succession Planning FAQs