Our experienced team of local Bendigo and Castlemaine based conveyancers and property lawyers make the transfer of a property a smooth process and importantly, legally compliant.
Navigating the legal maze of property transactions can be a daunting task, especially if you're not versed in the nuances of property law. That's where we come in.
At Robertson Hyetts Lawyers, we've been serving Bendigo and Central Victoria for over 140 years, offering insightful counsel backed by personalised attention. Our approach is simple: we get you, so we can get it done for you.
Choosing a firm to help with property transfer often boils down to price, leaving the unique value-add of lawyers and conveyancers unexplored. We pride ourselves on going beyond. Our seasoned lawyers have intricate knowledge of property law to ensure your interests are always front and centre.
Purchaser special conditions guidelines
The building inspection and pest inspection conditions in the LIV Contract of Sale only allow a purchaser to pull out of the contract in a very narrow circumstances.
This free guide from Robertson Hyetts outlines some special conditions that better protects a purchaser's interests. 
Just fill in your details below to be sent your obligation free guidelines.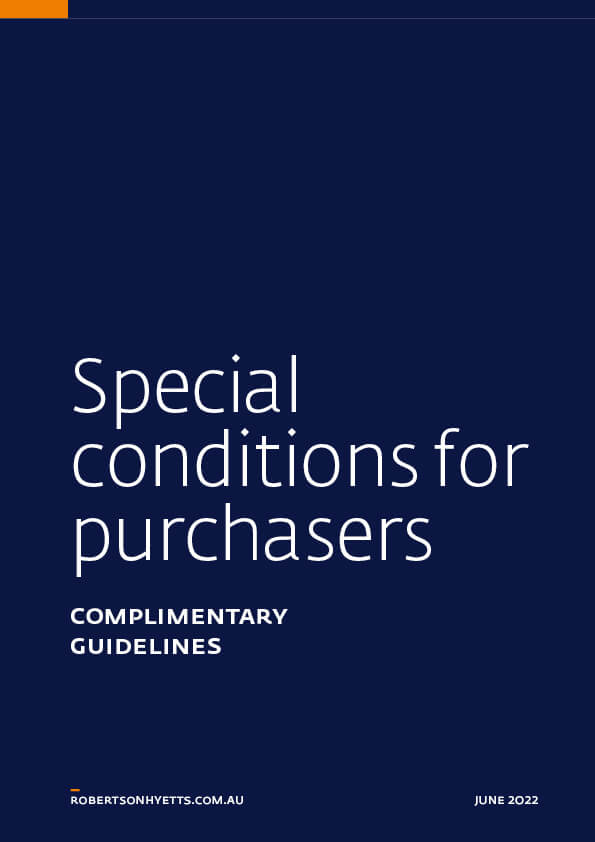 Buying or selling a property
Decoding the Contract of Sale
Whether you're buying or selling, a Contract of Sale is your foundational document. Our experts draft this contract to include all vital elements:
Contact Information:

Your details and those of your agent
Contact Information: Your details and those of your agent

Property Address & Price: The where and how much

Fixtures and Fittings: What stays and what goes

Legal Requirements: Easements, payment terms, and a cooling-off period
Our aim is to make selling not just easy but also safe. We walk you through each step—planning, title searches, and special conditions—to make the process hassle-free.
Your guide to conveyancing
While conveyancing may seem straightforward, like all aspects of the law, it can be complicated and costly if not done correctly.
This free guide from Robertson Hyetts will help you understand who is responsible for what, to help make your experience as stress free as possible.
Fill in your details below, and we'll send you an obligation free guide.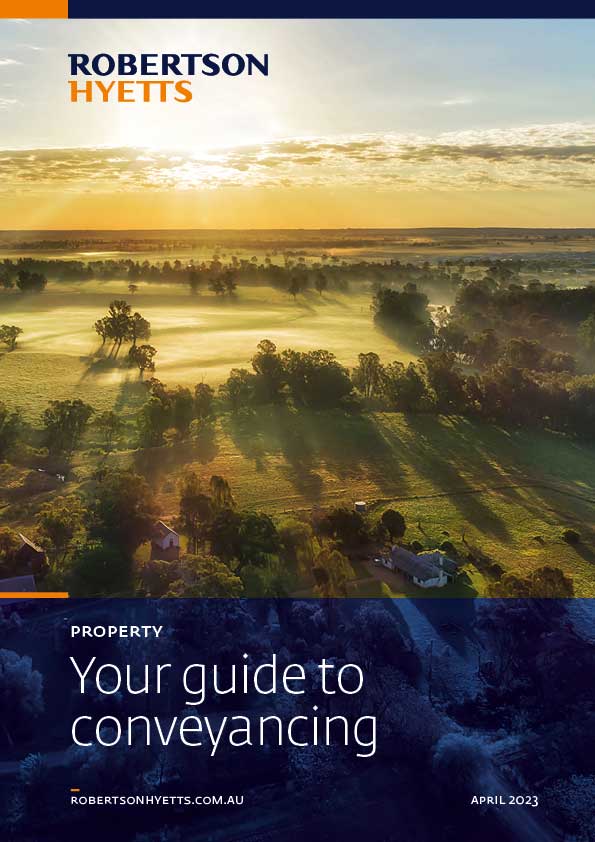 Thinking of subdividing your property? You'll need approval, and each council has its own set of rules. Our conveyancers help you gauge the cost and guide you through the legal prerequisites like zoning, drainage, and property boundaries. From drafting documents to liaising with authorities, we've got it all covered.
Before you make an application, your first step is to engage a licensed surveyor to develop a plan of subdivision. In Victoria you need to apply for a planning permit for development with subdivision via SPEAR. On the SPEAR site you can get information on residential subdivisions, building envelopes, bushfire management overlays and planning practice notes.
Our conveyancers can help you determine the considerations of subdividing your land such as zoning, property boundaries, drainage, easements and covenants and other restrictions. We draft all the documentation you need and lodge your plans with the right authorities.
Updating a Certificate of Title
Got a change in ownership or address? No worries. Wherever you are in Victoria, we handle the complex paperwork to update or change your Certificate of Title.
Understanding adverse possession
In Victoria, it is possible to acquire title to land by way of an adverse possession claim. To successfully make an adverse possession claim you will need to be able to prove that you (including any previous owners) have had uninterrupted and exclusive possession of the land for a minimum period of 15 years without objection from the actual landowner.
Adverse possession claims commonly arise when fence lines do not align with title boundaries or land adjacent to a property is used without the true owner's objection. Adverse possession applications require meticulous attention to detail.
Adverse possession applications
Preparing an adverse possession application can be complex and the assistance of a lawyer is advisable. Adverse possession applications are made to Land Use Victoria. We can assist in preparing and providing all the necessary documentation:
Evidence of occupancy for the statutory period
Professional survey maps and photographs
Statutory declarations from you as the applicant and a disinterested witness who swears to the facts of your occupation of the land
A letter from the council providing evidence of the individuals recorded as the rated owners over the last 15 years
Land registry searches

We are skilled in preparing adverse possession applications and assisting you with collecting and preparing the appropriate evidence, including introducing you to estate agents and surveyors with the necessary experience and expertise, to ensure your adverse possession claim is a success.
Own a land that's been around since before 1862? It's mandatory to convert from General Law to a Torrens title. Our property lawyers make this transition smooth, ensuring you have a government-guaranteed title.
Registering, changing or removing an easement
Whether you're registering a new easement or removing an outdated one, we manage all the intricate legal documentation for you. Need more information on easements? Click here.
Making conveyancing simple
At Robertson Hyetts, we're passionate about demystifying the complexities of conveyancing. Our approachable yet authoritative staff provide clear explanations, aimed at making your property transfer a breeze.
Looking for a conveyancing lawyer in Bendigo, or perhaps more information on conveyancing in Victoria? Reach out to us and experience the Robertson Hyetts difference.